It Was a Space War
A downloadable scenario pack
WHAT?
In this scenario pack you will find 3 stages for the campaign "It Was a Space War", which tells a story of a squadron (the players) exploring the forgotten battlefields in space and the dangers they hold for any intruders. Each scenario includes a map, custom tokens, rules and objectives.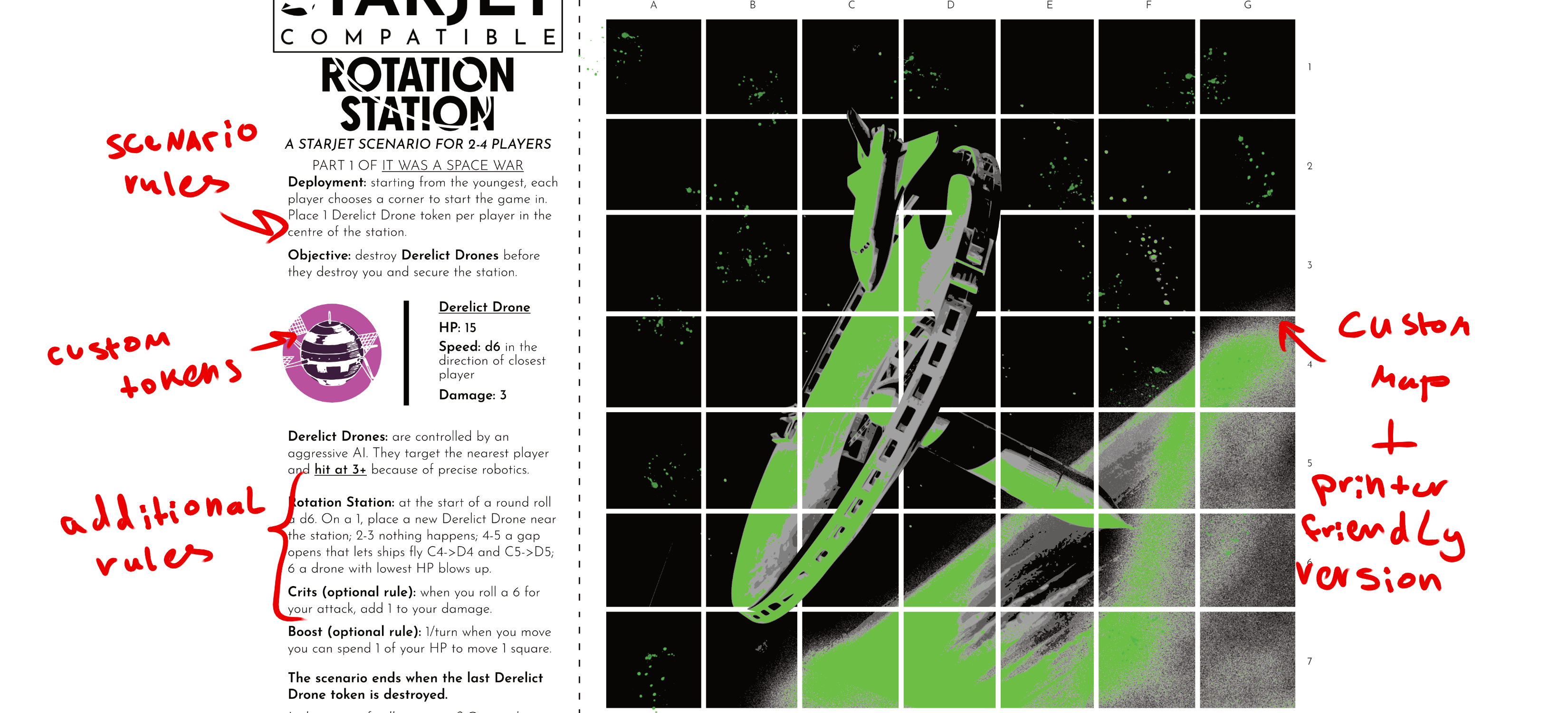 [image: rotation station scenario. notes saying: custom tokens, additional rules, custom map + printer friendly version]

Based on STARJET by Lone Archivist. "It Was A Space War" Scenario Pack is an independent work compatible with STARJET but not affiliated with Lone Archivist.
CW: AFTERMATH OF WAR, MINES, TENTACLES
BRIEFING:

[image: 3 squares depicting each of the scenarios. 1, rotation station, green space station. 2, unsealed minefield, orange asteroids. 3, parabola nebula, purple nebula.]
It has been centuries since the Space War, but the galaxy will never forget its horrors. Visit these three locations scarred by the conflict and maybe find a way to heal them.
The scenarios are designed as cooperative endeavors, but can be used as well as skirmish maps.
Good luck, pilots.
If you enjoyed these scenarios and want to make something similar, check out my scenario template for STARJET: https://mvmaxv.itch.io/starjet-compatible-scenario-template
Purchase
In order to download this scenario pack you must purchase it at or above the minimum price of $4 USD. You will get access to the following files:
it was a space war - everything.zip
24 MB
it was a space war - maps and tokens.zip
15 MB
rotation station - rules.png
2 MB
unsealed minefield - rules.png
1 MB
parabola nebula - rules.png
4 MB
it was a space war - tokens print out.png
1 MB
Community Copies
Support this scenario pack at or above a special price point to receive something exclusive.
Community Copies
Submitting to the Micro Skirmish Jam? Want to try out the scenarios, but low on funds? Feel free to grab a copy <3 If you do, comments and reviews are greatly appreciated :)